Few things are as rewarding as owning your business and doing what you love. Unfortunately, sometimes nothing can be more frustrating than running your own business especially when times are tough and you're relying on yourself to get the money you need to survive.
If you want your business to be printing cash year round you need to remember one thing; at the heart of every successful business are great customer acquisition strategies.
"ACQUIRING CUSTOMERS DOES NOT HAPPEN BY ACCIDENT. IT'S PLANNED, EXECUTED, MEASURED, AND REPEATED."
These following tips are in order of what I think is essential for a customer acquisition strategy. Once implemented, you can be creative and use the same pieces differently to create other methods of acquiring customers.
Whether you've been running a videography business for 10+ years or plan on starting one tomorrow, I believe the tips and strategy in this article will help you attract more customers today.
1. Have a Website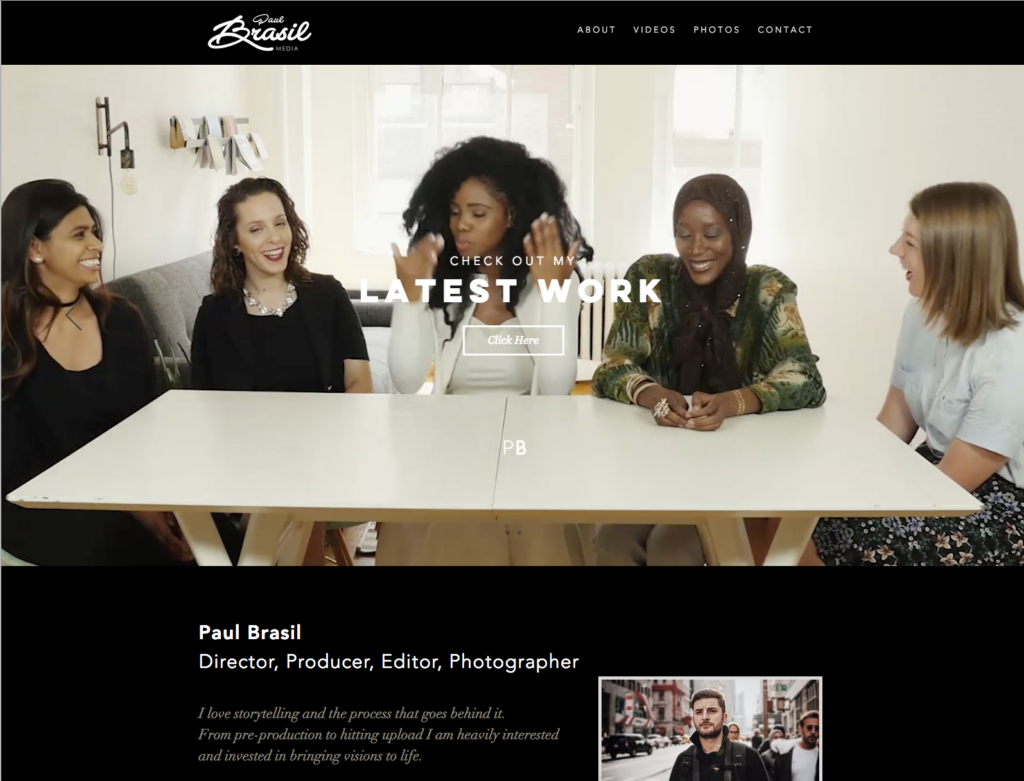 *Site by New Jersey Photographer/Videographer Paul Brasil: https://www.paulbrasil.com/
Having a website is very important because it allows you to take advantage of the largest source of customers online: Google. It also gives you the ability to collect leads from other traffic sources you may use. And it's a fantastic time to start a business because creating a website is incredibly simple. You can use Wix, Squarespace, WordPress or what seems like hundreds of other tools to create a site you're proud of that provides an experience potential customers will love.
Make Sure It's Beautiful
It goes without saying, but you are selling visuals. Every aspect of your business from the logo to the site should shout quality. Now, you may not have the budget to invest in your site initially, but make sure you do so as your business grows.
Showcase your work
Potential customers will want to know what you're capable of doing. Use this opportunity to show them what they can expect. Showcase your client work and if you don't have any, showcase any project you've done on your own. Just make sure that you have something that shows the quality of the videos you make.
Talk About Yourself
In this situation talking about yourself isn't rude, it's expected. Highlight the things you're proud of in your education and/or career. Did you go to a good school? Mention it. Have you taught any aspect of videography online, or in an educational or professional setting? Definitely, mention that. Maybe you had an awesome internship, high-profile clients, or perhaps you're just a regular person from a small town who realized early in life that being behind a camera makes them happy. Regardless of your story, tell it. It's a great way to start creating a bond with your customer. An "About" page is a must-have for your website.
Collect Leads
Lead collection is vital to running an efficient customer acquisition strategy. You want potential customers to not only fill out a form with there info but to provide you details on what they want and when. As an example, you want to know which of your services they want and when do they want it if it's an event. If you're feeling gutsy, you can even ask them about their budget.
2. Setup Google My Business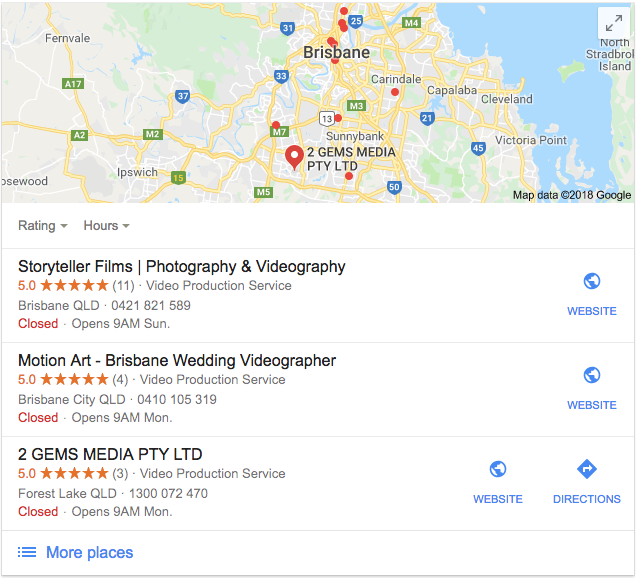 Go to google and type in videographer or a service related to your business like "Wedding Videographer." If you don't pop up in this little box, you are missing out on a lot of opportunities. Local SEO is key to building a profitable business and setting up your Google My Business account will help with local SEO. Here's an article on how GMB helps Local SEO:  SEO Hacking: How to Use 'Google My Business' Listing to 10x Local Search Traffic Organically
I could go into detail on how to set up your Google My Business account, but Hubspot has created "The Ultimate Guide to Google My Business". Rather than repeat what they say, I suggest just reading their guide. It's a thorough walk-through of everything you need to do to get your business up and running on GMB.
3. Increase Your Service Offering
If you're new to the videography business and need to make money fast, having a diverse range of services will help you earn more money quicker. The reason for this is simple. If you provide a customer with a great product and service, chances are you will be top of mind for professional and personal videos. As an example, imagine delivering a Facebook video for a digital marketing agency with 50 employees, and they all love it. When one of those employees gets engaged and is looking for a wedding videographer, you will likely be top of mind.
As your business becomes more established and bank account grows, you can consider removing services to focus more on the services you're most passionate about doing.
4. Use Video Customer Reviews
Have any of your customers told you how happy they were with your service? If so, get their thoughts about you and your service on video. You want to showcase their review on your site and in your ads (more on this later).
["Customer reviews are a form of social proof, and they're a powerful tool for acquiring new customers."]
The video can be professionally done by you or as low-fi as the webcam on your customer's computer. Ideally, it will be shot and edited by you, but sometimes that's not possible. In the event you can't shoot the review yourself, a webcam review done by the client and edited by you will work.
The great thing about a video review is that it can become multiple forms of content. You can have it transcribed and turn it into a case study, or you can find your favorite quotes and add them to your site. You're only limited by your imagination here.
5. Run Targeted Ads
So, now you have a beautiful website that showcases your work, informs prospects about your business, and allows you to capture leads. You also have some awesome videos of clients talking about how amazing you are and how happy they are with the product you delivered.
The next step is simple in theory but will take a bit of work for you to do.
Take your customer review video and edit it according to this article: Facebook Video Ads: Best Practices for 2018.
Now you have a video for your ad.
Next, follow this guide to create your first campaign targeting potential customers locally: The Beginner's Guide to Facebook Advertising.
Use your knowledge of your customers to fine-tune your targeting. Also, if you happen to target businesses as clients, you can also try LinkedIn ads. Try this guide from Hootsuite: The Complete Guide to LinkedIn Ads: How to Run a Successful Campaign
One Extra Tip

This tip won't help you acquire more customers, but it will decrease the time you spend servicing those customers which means more money for you and a better outcome for the client. The tip is simple.
Do more high-quality work for your client in less time. 
You can do this by having an arsenal of high-quality assets. I've written about this in my Envato Elements review.
I can understand if you don't want to use templates and would prefer to handle client work as an opportunity to learn new skills. If that's the case, keep the learning simple. Remember, when dealing with budgets and tight deadlines, client work is not the ideal time to experiment with complex techniques. You risk running late and impacting the marketing plans of your client, and that's not fair to them. Use downtimes in your business or when you're "off the clock" to level-up on the more difficult concepts. For client work, keep the leveling-up simple. Here's a list of my 15 MUST-WATCH PREMIERE PRO TUTORIALS 2018. It will help you when you're looking to upskill.
I hope you've enjoyed this article. If you have any questions or comments please post them below.