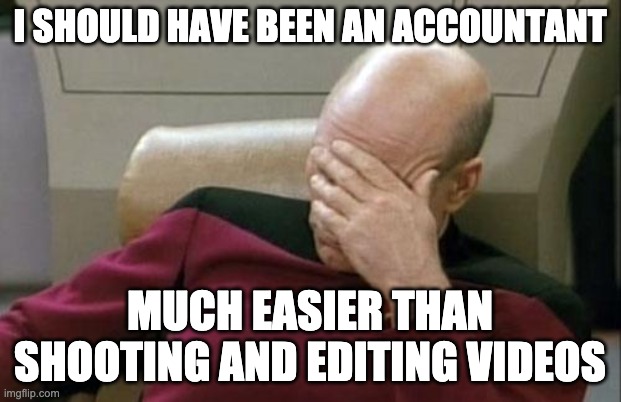 You have a project you're working on and want to make it perfect. You have two options:
1. Spend the next 10 – 12 hours crafting a beautiful intro. That would cause you to go 7 hours over the budgeted time and at $100 per hour, that's $700 in lost time, lost sleep, and the potential that you might miss your deadline.
2. Buy an intro template and spend 1 – 2 hours customizing it so that it's uniquely yours. Unfortunately, money is tight at the moment, and templates are expensive…well templates were expensive.
Meet Envato Elements [Free 30 Day Trial]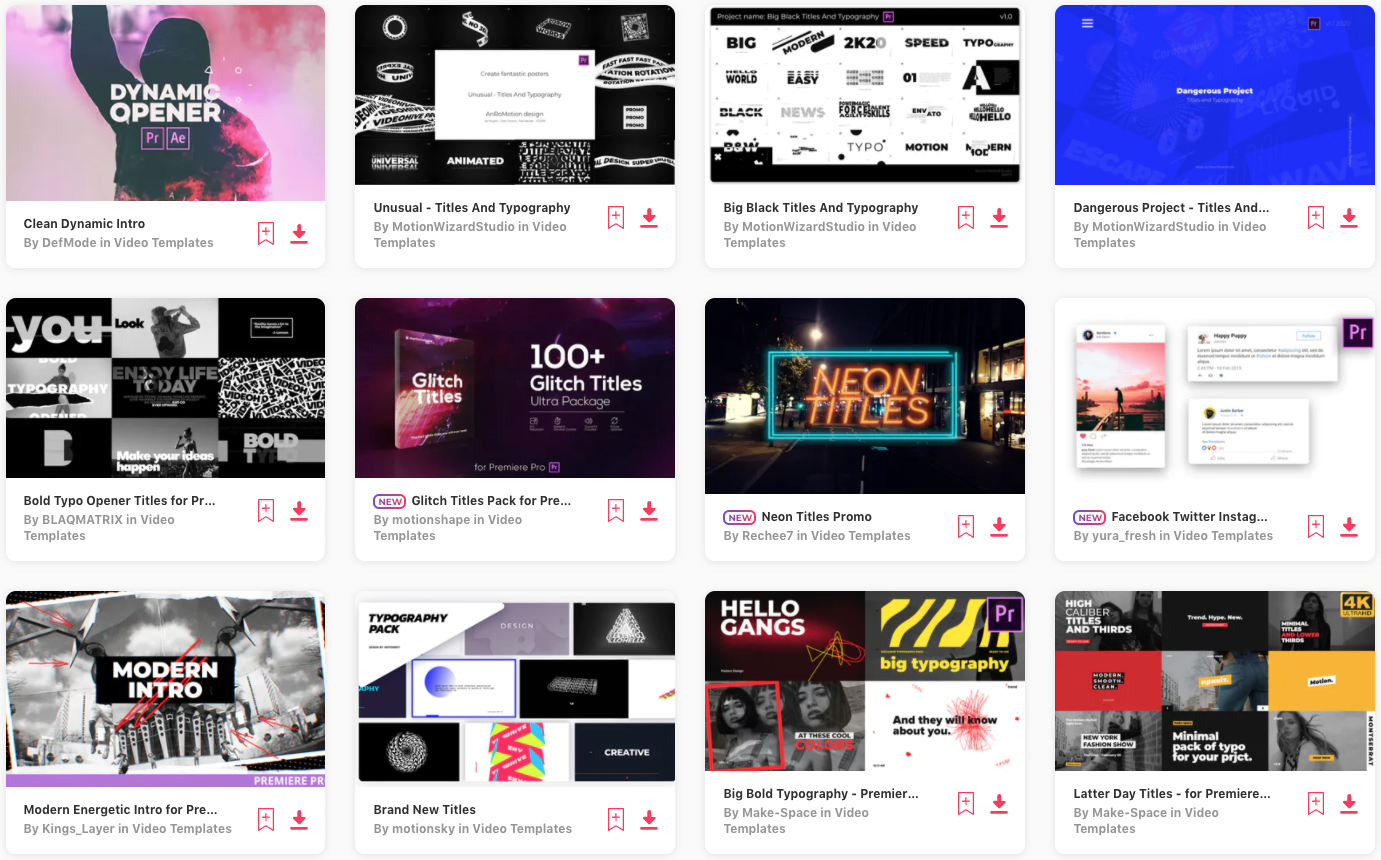 About two years ago, Envato, the largest player in the creative assets space decided to add Stock Footage, Motion Graphics, and Video Templates to their ground-breaking product, Envato Elements.
Envato Elements is ground-breaking because it flips the Marketplace model of creative assets on its head and replaces it with a subscription model that gives you Unlimited downloads and usage of 2,379,070 premium creative Assets, and a simple to understand commercial license. All this for less than the cost of a premium video template. And they were also able to do this while driving more revenue for the creators of these products. You probably think that's impossible! But this is a very similar model to what Netflix uses to provide immense value to its customers while generating a lot of revenue for its content creators and studio partners. You wouldn't be wrong in saying "Envato Elements is the Netflix for creative assets."

Video Templates Overview

As of right now, Envato Elements has over 6,900 video templates. That's across eight categories (Broadcast Packages, Logo Stings, Openers, Titles, etc.) and four applications (After Effects, Premiere Pro, Apple Motion, and Final Cut Pro).
To be honest, if all Envato Elements had were the video templates, the low monthly price would be more than reasonable. But it has more than that. It has over 900,000 digital assets with new items added weekly (8,000 added last week alone). But let's not get into that yet. Let's focus on video assets for now.

After Effects Templates
Modern Titles is one of over 16,000+ After Effects Templates That Come With Envato Elements
This is clearly one of the strengths to the Envato video library. With a growing library of 16000+ After Effects templates, you're sure to find a template that meets your need.
Having reviewed the library, I can tell you that it provides tremendous value. As an example, Outline Character Explainer Toolkit which we wrote about in our 57 Best After Effects Templates 2020 article is $37 for single use on VideoHive.
You read that right. $37 for single use. Elements is priced at $33 per month for unlimited use, so you've probably figured out that by subscribing to Elements you can save money on this item even if you subscribe for only one month (you'll likely stick around though). Better yet, you can get the Outline Character Explainer Toolkit plus download all the templates and assets needed for your project, and use them as often as needed without spending more than $33 per month.
With that being said, the value is not in one-off discounts like the one mentioned above. It's in the incredibly large and diverse catalog of After Effects and creative assets you will be able to download and use.

Premiere Pro Templates
Glitch Titles Pack is one of over 3,312 Premiere Pro templates you will have access to with Envato Elements. Premiere Pro templates are not new, but they are a category that is growing. If you're not an After Effects Pro and would prefer to do as much of your project in Premiere as possible, than Elements is perfect for you.
Premiere Pro templates help you get the same outcome as an After Effects Template, but exclusively within Premiere Pro.
The Premiere Pro library isn't as vast as the After Effects offering, but with a growing library of 517 templates you're sure to find something to help you take your projects to the next level!

Final Cut Pro & Apple Motion

YouTube Titles Collection for Final Cut Pro X. One of 232 Final Cut Pro & Apple Motion Templates available via Elements
If you use a Mac for video editing than it's likely you're using Final Cut Pro & Apple Motion. I'm an Adobe person myself but to each their own. Fortunately for you, Elements has a very diverse offering of FCPX & Apple Motion templates. With 232 templates made for those who are Team Final Cut Pro & Apple Motion, you have the resources to create some amazing videos for you or your client (make sure you invoice clients for Elements ?). It's just my opinion, but some of the best templates seem to be in this category.

Motion Graphics on Elements

With over 20,800 Motion Graphics templates it's hard to find a bigger or better selection online. Filled with backgrounds, elements, infographics, interface effects, lower thirds, overlays, revealers, transitions, and so much more. Th Motion Graphics template library is one of the best parts of Elements. Don't take my word for it. Check it out for yourself.

Stock Footage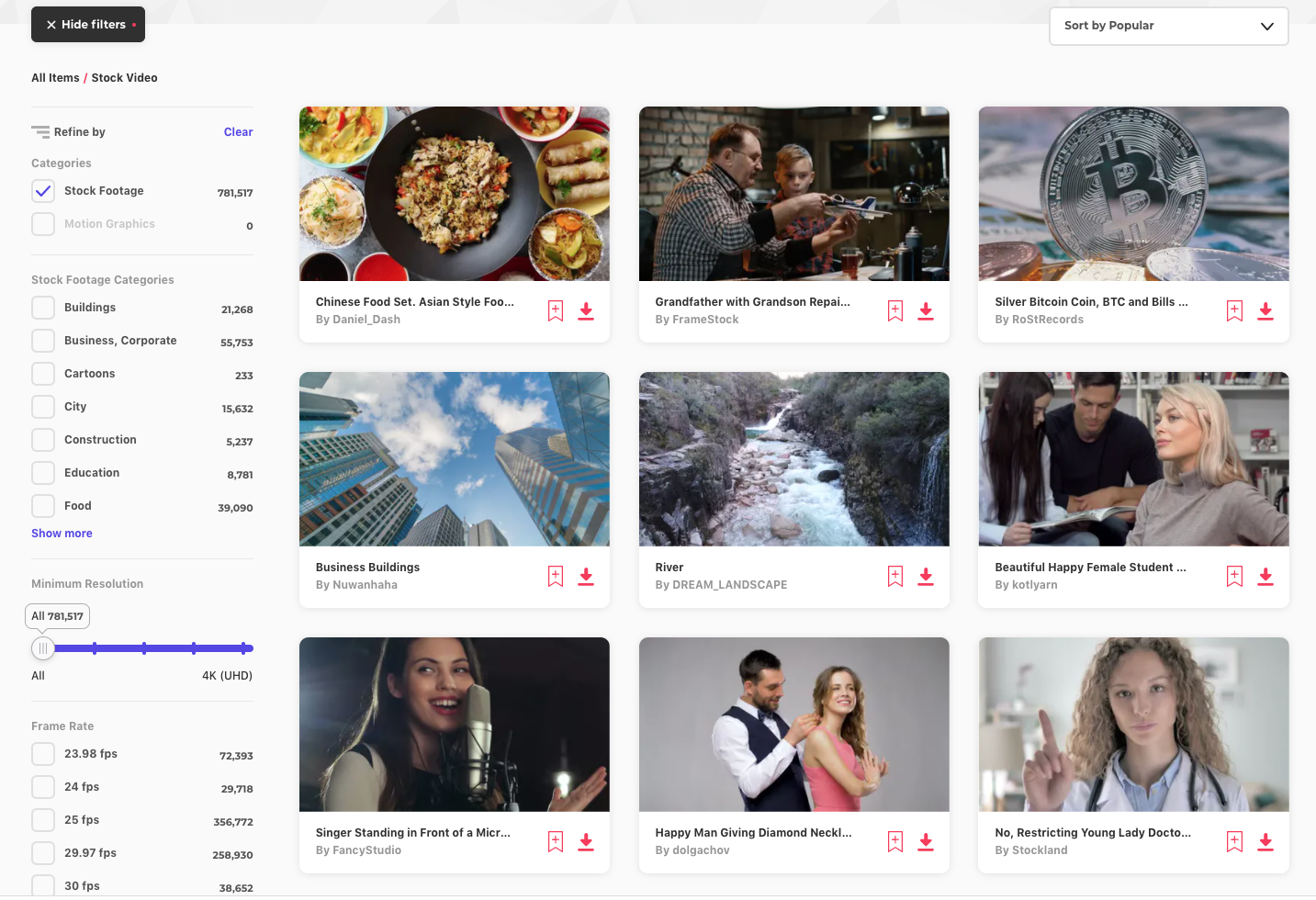 In an ideal world, you wouldn't need stock footage. You'd be able to shoot the footage you need for each project quickly and efficiently. Unfortunately, we do not live in an ideal world. The chances are that over the course of your career you will need stock footage and when you do, you know it will empty the bank account because stock footage is expensive…well, like video templates it was expensive.
Elements boasts a growing library of over 73,000 stock footage clips. This makes it big enough to have what you need, but small enough to where you can find it in a few minutes. The quality is definitely above average, but not on par with a provider like Stocksy.
With that being said, Elements is the best value for Stock footage anywhere online.
Here's an example. On stocksy, a 720p video of a group of friends on a beach is $75. On Envato Elements, I searched "Friends on Beach" and got 593 results with some being 4K resolution. I could download each one of them and use them in a project as part of the $33 subscription. And they were all good quality.
Is it possible that with a small library of only 73,000+ clips you might not find a suitable stock footage clip? Yes, it's possible, but I think it's unlikely.
Regardless, Elements has so much value outside of Stock Footage that it makes sense to start your search for stock footage on Elements and then go elsewhere if you can't find a clip you like.

Music & Sound Effects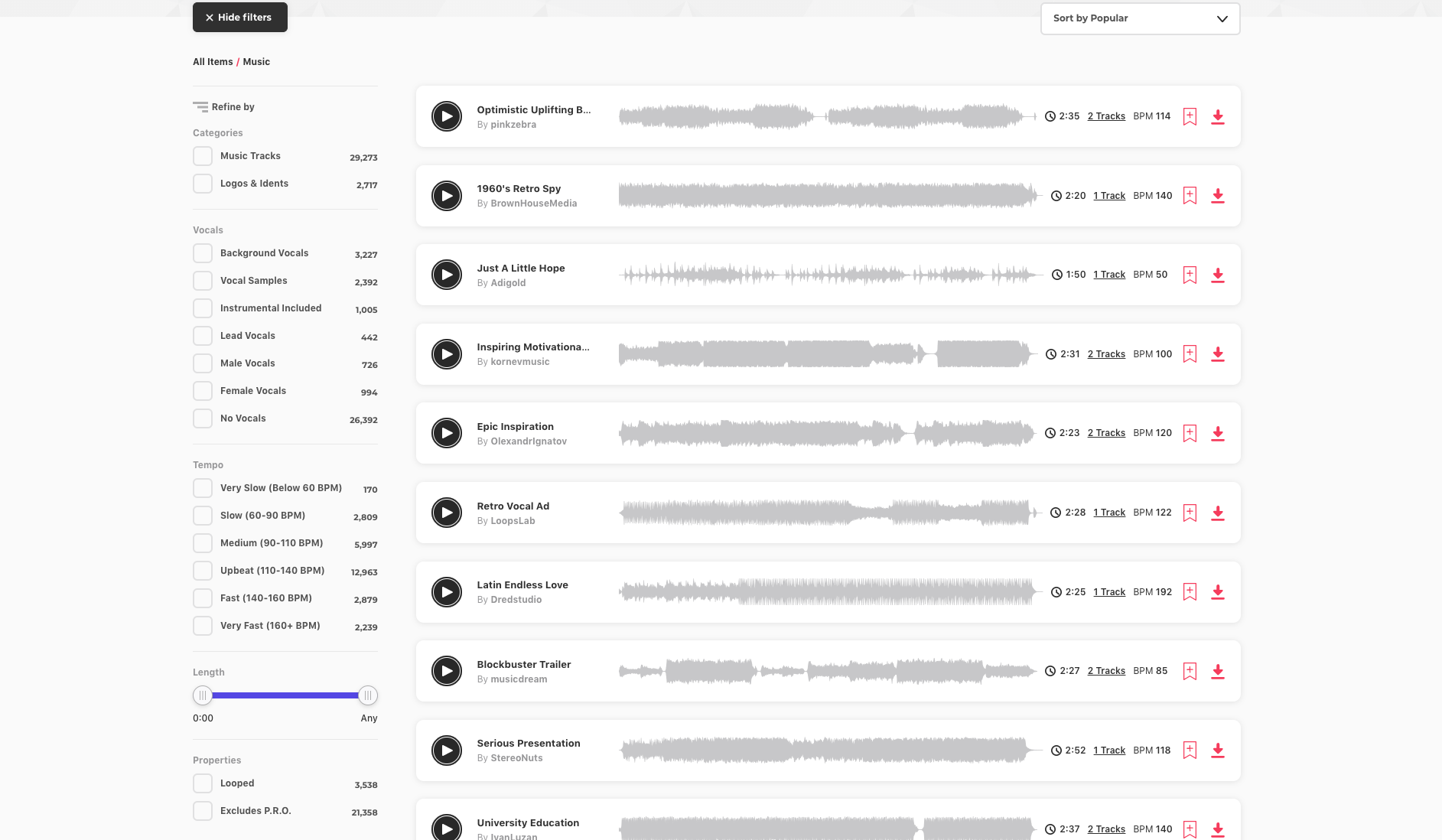 It's music to your ears ?!
Envato Elements has officially brought the noise, with over 11,000 royalty free music tracks and 77,000+ sound effects with more added weekly.
This is the encore to an already stacked lineup of 900,000+ video, photo, graphic and web assets, Envato Elements is now the complete creative toolkit––all with unlimited downloads!
Find your perfect sound now to amplify your next project.
Download Sound Effects Here or click below to get Royalty Free Music!

Creative Assets on Elements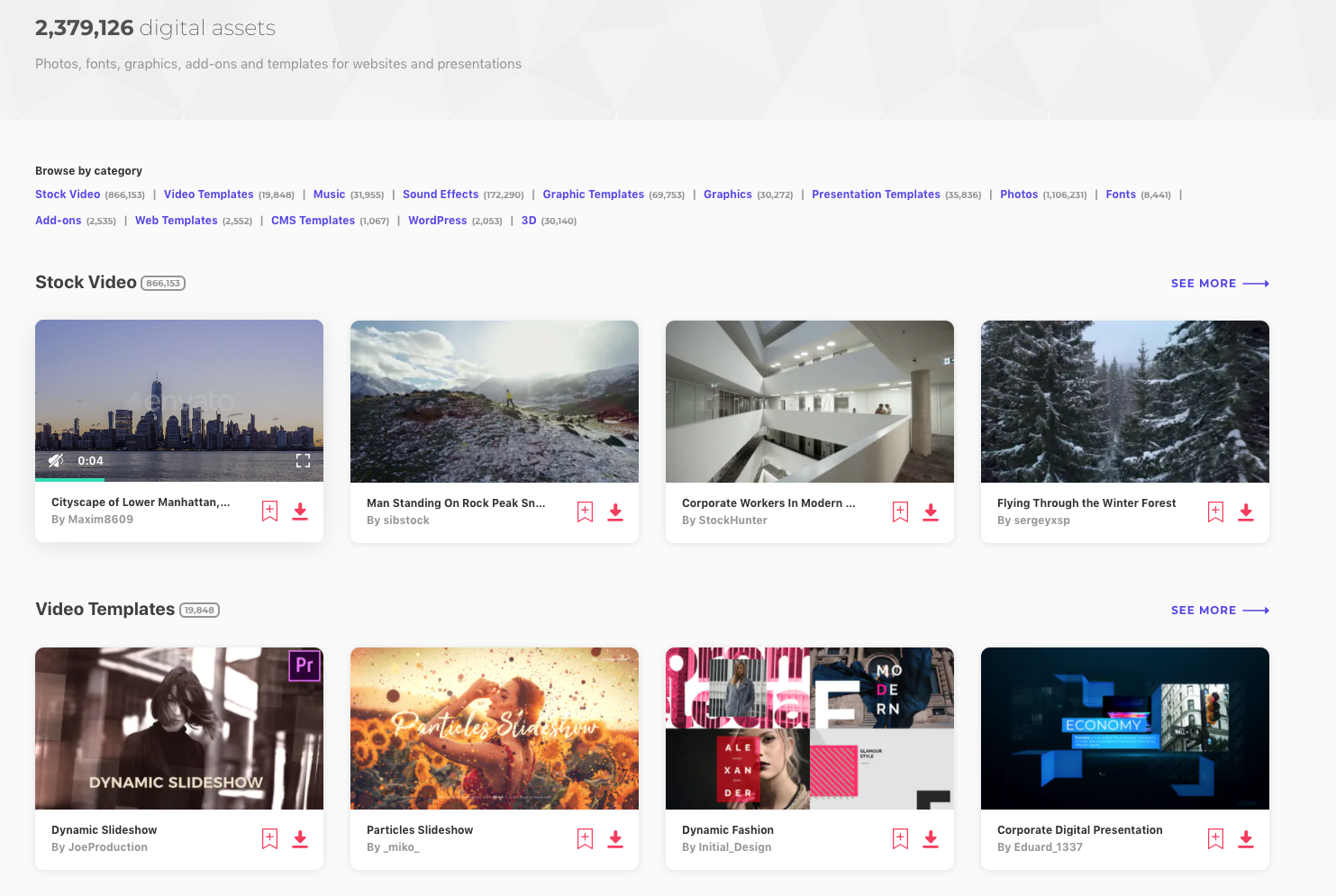 Here's the thing. Envato Elements has ALOT of creative assets across every category you could think of. The above picture is a list of all the different categories that Elements covers. I highly suggest browsing through all of them over the course of a week or two. I did that and stumbled across what might be the best library of fonts online. Perfect for videos or other creative projects.

eBooks and Courses on Elements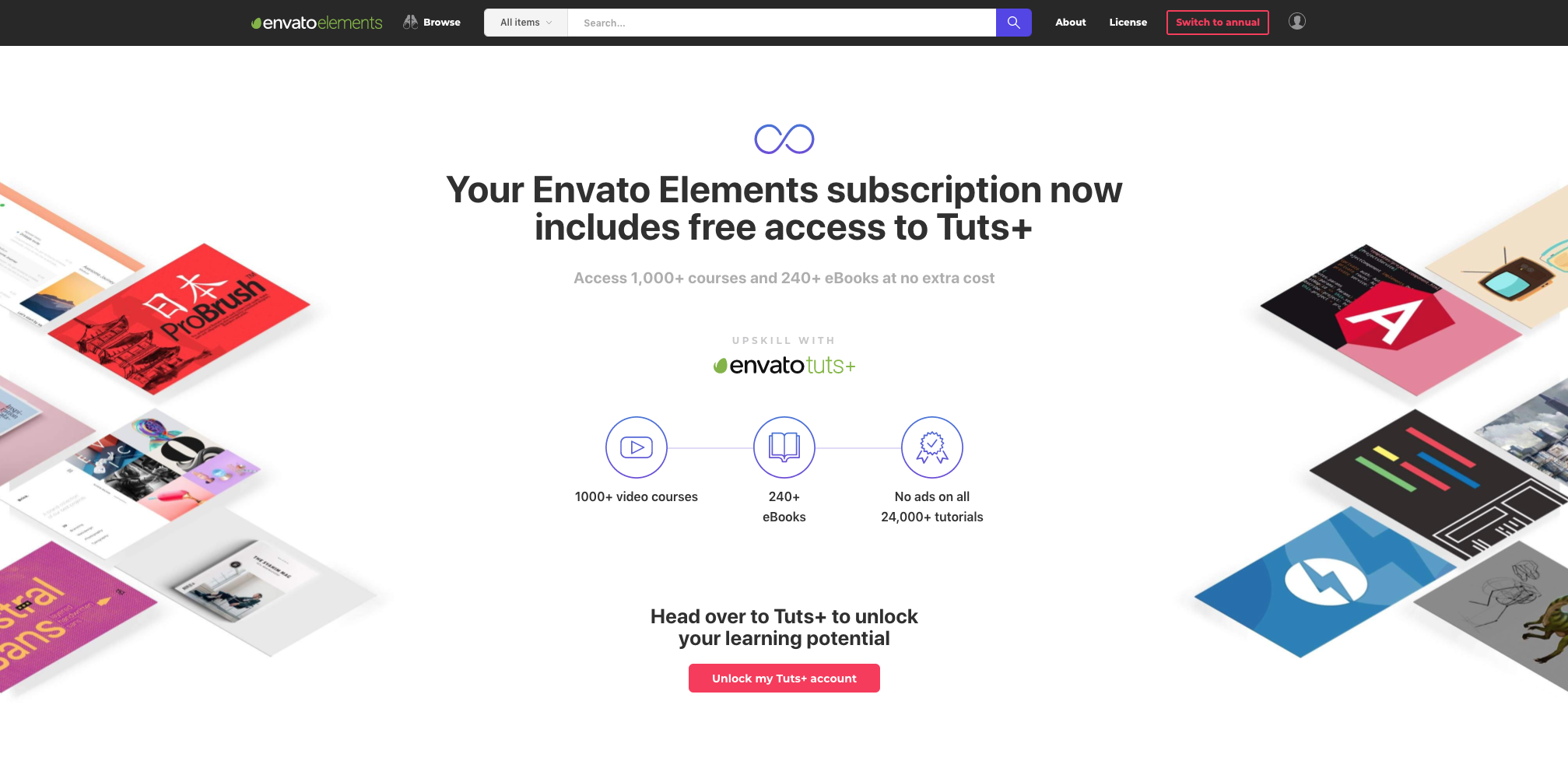 One of the best parts about having an Elements subscription is that it gives you access to 1,000+ courses and 240+eBooks from publishers like A Book Apart, Packt, Smashing Magazine and many more publishers. The courses are as diverse as the Elements offering and cover topics such as Design & Illustration, Web Design, Code, Photo & Video and Business. Regardless of your professional level, you will find courses and books that will help you be even better. If you're a self-learner, this is another reason Envato Elements is a no-brainer.

Is Elements Worth The Price?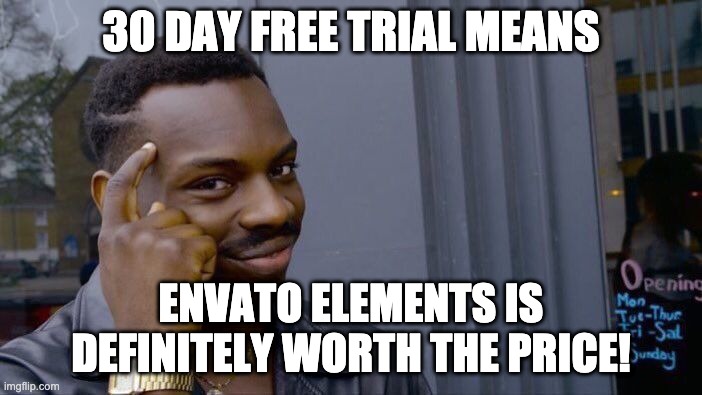 The simple answer is "Yes, Envato Elements is definitely worth the price of $33 per month ($16.50 per month if you pay annually which is 50% off)". If anything, it's underpriced. I still haven't found anything that provides as much value to us creatives at such a low price.
In fact, the price is so low that you can add it to the cost of any project, and the slight increase wouldn't be noticeable…but the additional value you'd provide would be. And if you don't have a  project you're working on, it's still a no-brainer. Getting access to the library allows you to test new items and even expand into providing new services.
Envato Elements is definitely a must-have for any creative. Especially if you make videos for yourself or clients.
Go ahead and subscribe before they get wise and raise the price!

How to subscribe to Elements
Subscribing to Elements is easy. It takes three steps that you can do in less than 5 min.
Pretty simple. After clicking the above link, put in your name and email, agree to the Privacy Policy, and the Terms and Conditions.
Finally, click "Set Up Your Account."